With SKEDit Multi-Contact Selection, you can now select many contacts, at once, as recipients for your scheduled message.
Note: Multi-contact selection is a locked feature, exclusive for Premium subscribers.
This article contains the following sections:
Requirements
How to activate Multi-Contact Selection mode
Requirements
Enable Draw Over Apps - See "How to Set Up SKEDit Settings on your Android Device"
How to activate Multi-Contact Selection mode
In SKEDit's Scheduling Screen, under 'Schedule To', select "Contacts"


Tap the WA icon to add recipients through WhatsApp




Long-press on a contact's display picture, until you see SKEDit's blue pic icon, to enter Multi-Contact Selection mode.


Note: Long-pressing the contact's name instead will not allow 
you to complete selection. You must make sure to long-press 
the contact's display picture.




Select the contacts you wish to add as recipients for your message scheduling.


Note: After activating multi-contact selection mode correctly, 
you can tap anywhere on a contact's chat to add it to the 
selection. Only the first contact to be selected must be through a long-press on the profile picture.



Tap in the bottom right of the screen to proceed with selection.


Note: To clear the selection and return to SKEDit, you must tap on 
the WhatsApp back button . Using the device's back button instead will confirm selection and add the selected contacts as recipients 
for your message.

You will be redirected to SKEDit's scheduling screen to complete scheduling your message.


Note: You can only multi-select contacts whom you have chatted with 
before.
________________________________________________________________________________________
If you found this information helpful, please leave us an upvote by pressing the "YES" button at the end of this article (See picture below).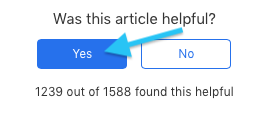 The number of upvotes helps us understand what content is relevant to our users, which results in an improved Knowledge Base. Thank you for using SKEDit!